Other Local Services
FARE FOR ALL
Resurrection Lutheran Church
610 County Road 2
St. Joseph, MN
Open to everyone, sells packages of fruits, vegetables, and frozen meats. 3:30 - 5:30 on Monday night -see website for schedule and prices.
1-800-582-4291
FARE FOR ALL
Salem Lutheran Church 90 Riverside Dr. SE, St. Cloud, MN 56329 Dates for 2016:
Sept 12, Oct 3,
Nov 7, Dec 5.
(same choices and prices as the St. Joe one)
RUBY'S PANTRY
in Ramey, MN
Bethany Lutheran Church
34238 Nature Rd
Pierz, MN 56364

2nd Wednesdayof the month
Distribution
5:00-6:30pm
$20 for each unit of food. Bring empty containers for your food.
March Campaign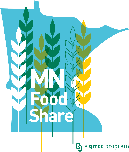 It is the March!! It came so quick this year and yet none too soon. The food shelves around Minnesota are all gearing up for the Month of fund raising and support from the communities around us. The CROSS is anxious to do some fund raising in the community and receive the support you can give. You have been good to us in the past and we thank you. We have to pay our bills to stay in business and that support comes from the people right here in this area and the people we serve are living here in Benton County. Neighbors helping neighbors. That is good stuff. March is the special month, where the donations , food and money, are counted and reported and later in the year we will receive a check based on those donations. The more now, the bigger our check will be later. So, we ask you to mail us a check, PO box 205, Foley, or bring food to food drives or a local church and you will help us. To warm us all up to the challenge there are a few events planned (watch for details), Breakfast at the Duelm church hall, Fish fry on March 20 at Legion, Caramel roll sales to businesses on April 1, and watch for other events or food drives. You want to help us by planning a food drive? Please do, we welcome all and new partners. Again, Thank you for your support.
The March Campaign is run by the Minnesota FoodShare. In the month of March, there is an extra incentive for food shelves to collect donations of food and money. At the end of the month, the number of clients served and the number of donations are tallied. Based on the numbers, a percentage of an allocation fund is awarded to each of the food shelves that participated in the March Campaign.
Essentially all food fund distributions are made off of two things:

1. How many people a food shelf served in the previous year
2. How many pounds and dollars were raised in the most recent March Campaign.

Minnesota FoodShare then does a percent or proportional match based off of these numbers and the size of our food fund. The distributions will change every year since the reported numbers above will always be changing as will the amount of money they have in their food fund to distribute. They DO NOT do a 100% or dollar for dollar/ dollar for pound match.